How to record professional-sounding vocals easily!
Learn to hear and assess yourself as an external listener, and no-one will ever take you for a ride again. From now on, you decide what course to take, and you'll never have to depend on singing teachers again. That will save you time, money and nerves!
Your problem
You love to sing, but your vocal recordings just don't sound the way you want them to? Not like the professional recordings you hear on the radio or on TV?
You find this frustrating and want to finally make some good quality recordings of your own singing, so that it will appeal to yourself and to others, without having to go to an expensive recording studio?
You want to learn to sing really well and to know how your voice really sounds, rather than always having to rely on the opinion of your friends or your singing teacher? Especially since everyone tells you something different anyway?
The good news…
Then I have good news for you: These days, you can inexpensively get hold of the sort of equipment which would have cost you a fortune a few years ago.
There's only one teensy little problem. Learning how to operate these devices is no easier now than it was then. You can spend years battling through a jungle of manuals, myths and stupid chatter and still not manage to produce a single decent vocal recording. Just as I did for many, many years.
My solution
By concentrating on the essentials, in a few hours, you can learn what others have taken years or decades to master.
In my course, "Recording vocals professionally", I will quickly give you the most important tips and tricks on how to record your voice, and show you what really matters.
These techniques apply not only to pop, jazz and rock, but also to classical recordings
– allowing you to record your voice, and perhaps your own songs, with the professional sound that the listener has come to expect.
And to instantly hear what you need to improve, since you'll no longer be able to blame it all on a poor-quality vocal recording.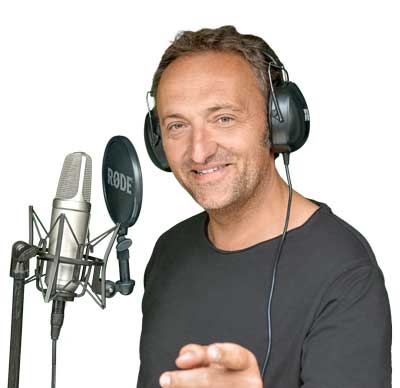 Who is telling you all this?
You are probably wondering who I am and what makes me think I can teach you about singing and vocal recordings.
My name is Matthias Ernst Holzmann and this is my website.
I have been singing pop and jazz since about 1984, and from 1995 to 2017, I was a professional opera singer. Today, I am an independent entrepreneur and a professional speaker. And I'm also a music producer and composer.
My song "Schnorchelabenteuer" ("Snorkeling Adventure") with Zyx Dance was recently in the German DJ charts, at the same time as my CD "Operatic Arias" was in the German and British iTunes charts.
How I learned to sing
The only way I learned to sing at all was by recording my own singing and using the recordings to correct what I was doing.
I never got along with singing teachers.
So whereas other opera singers usually study singing at a conservatory or music school before they get their first engagement, I more or less taught myself, whilst at the same time pursuing a regular 9-to-5 job.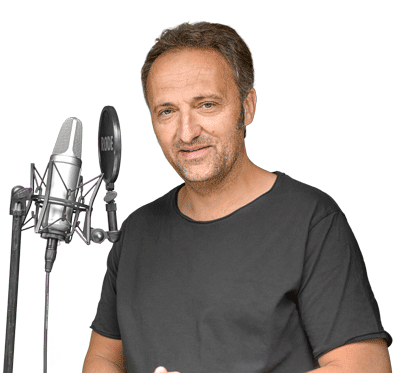 What you have to do
Obviously, you won't reach your goal if you enroll in the course and then never even look at it.
You'll need to take time to work through the course meticulously.
You'll need to understand what I explain in the course and implement it at face value.
To implement the course, you'll need to get hold of the devices – but by all means, take a look at the first part of the course before going and investing in the equipment. So that you know exactly what to expect.
What you get
Immediate access to the course

The option of completing the course via a free smartphone app

Individual support within the course

The chance to share your experiences with others taking the course

Absolute clarity regarding your own singing

All you need to avoid detours and blind alleys

And to suss out the singing teachers
Here's what former course participants have to say:
Through this course, I have at last gained the courage to record my own singing, allowing me to better assess what I am doing. The course offered clear and comprehensible information on the necessary technological devices and how to use them. Thank you very much for this.
Simple and with well-structured explanations.
A clear, logical structure. Intrinsic, easy to understand and very well commentated.
Here, even as an amateur, you can learn the basic setup of the individual components.
Really brilliantly explained. Thank you.
Quickly and concisely brings everything to the point; the Logic X preferences for post-production, in particular, are very good.
A very good explanation. Thank you.
Using recordings of his own singing as examples, Matthias Holzmann illustrates precisely and simply how you can optimize your own vocal recordings using the appropriate software on a PC or Mac. The post-production steps are clearly, legibly and simply described in the high-resolution video, step by step. You also get useful tips on how to acquire good but reasonably inexpensive equipment, such as microphones, audio interfaces, or portable equipment for recording on-the-go. Even a rookie can quite easily follow these explain-videos and go on to achieve success. The author draws his knowledge from many years of experience, not only as an opera, jazz and pop singer, but also as an independent music producer.
Whether you have absolutely no idea about audio recording, or whether you are already making recordings yourself, I think you can learn a lot. Practical know-how put across clearly and simply.
So what's next?
As soon as you have acquired all the necessary equipment (costing less than 500 Euros in total), you can create your first professional vocal recording in a matter of only a few hours.
If any questions arise, you can put them to me within the course and you'll receive an answer within 24 hours.
From this moment on, you will only ever be making professional recordings comparable with those you hear on the radio or on television.
You will become entirely clear about your own singing, and you'll learn to sing faster than you would with any singing teacher in the world – if you have talent.
Are you ready for the most important investment of your singing career? See you in the course in a moment then!